TM
old hand


Registered: 11/20/09
Posts: 808


| | |
| --- | --- |
| | Offline |
I mentioned earlier that in the early years, before the wolves were rammed down our throat the Salmon River country & the Selway country was full of elk that mostly had never seen a human. You could tell because they were so easy to bugle in, I was mostly doing it with just my mouth, no call, no grunt tube, nothing.

On one trip with my best friend all through high school & 2 others we were packed into the Selway to one of my honey holes on the Selway River at a place called Thompson Flats (no relation)
Early one morning we were working our way up Witter Ridge which is very steep with lots of switch backs. We had got off the horses & were leading them for a while.

After we were about a mile or so above our camp by the forest service cabin at Thompson flats I decided to bugle (with my mouth) in just seconds a bull bugled back & he was close, very close. Everyone grabbed their rifles, I grabbed my 44 flat top.

We eased along the trail, barely able to see as the sun still hadn't came up & it was a bit foggy this close to the Selway River. I waited 2-3 minutes & bulged again & this time he about took our heads off, he was right above us. We had the wind, it was cold & early morning, cold air is heavy air so it's coming down hill, we had him.

The next time he bugled Eddie's horse started answering! Yikes, that's not good, Eddie punches his horse in the nose with his fist, no good, I'm bugling, the bull is bugling & the horse is whinninying back. I turned & whispered to Danny, I don't think it's going to matter, he's going to run right over the top of us in a few seconds. I was in front bugling, then Danny, then Eddie, then Paul, I called him Shortboy (another story)

Anyway, I finally spotted the bull & he was knocking limbs down & coming straight at me, I could have killed him but wanted Danny to get him so we switched spots & I bugled one more time & BOOM, crash, crash, crash, silence. He turned to me & said, I think I hit him....wow, 30 yds & you "think" you hit him. I didn't say that but how do you miss a Volkswagen at 30 yds.

We worked around another switch back & part way around another one & there he was. Wow, what a bull, huge! This is me with Danny's magnificient bull, don't remember what he measured but way over 300 inches, of course he has it mounted.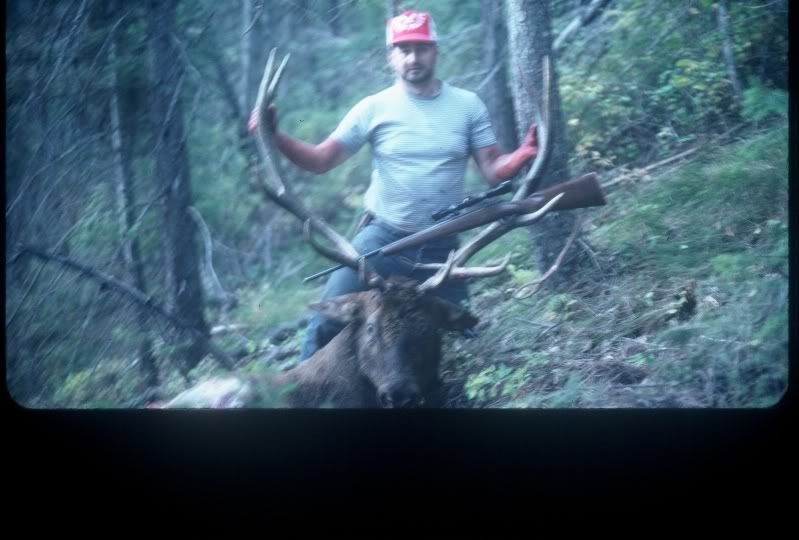 Dick


Edited by sixshot (

11/07/19

01:13 PM

)