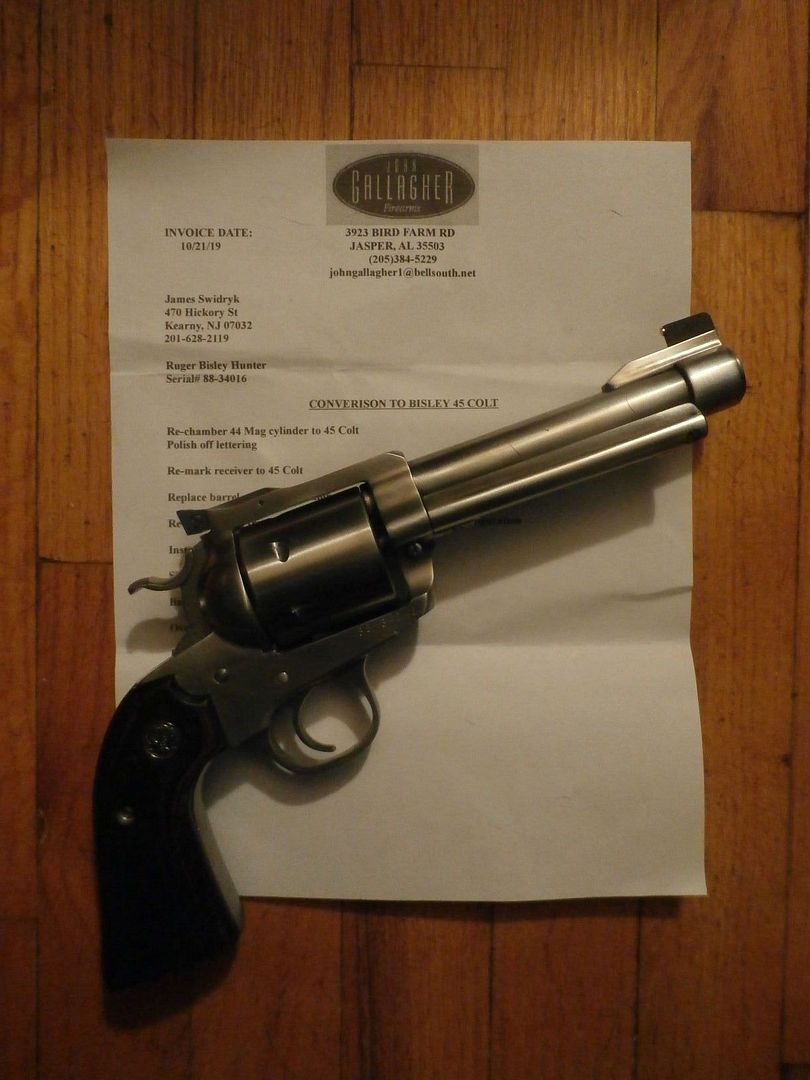 My John Gallagher Bisley was delivered last Thursday and she was everything I expected. This project started after shooting Sixshot`s stainless steel 480 Bisley in Idaho and I had to have something just like it. I already owned a Gallagher five shot in 475 so I decided on 45 Colt as the caliber. After discussing the build with Glen Swagert he convinced me I only needed a six shot cylinder cause my heavy 45 Colt days are behind me and also saving money with the build. A new Bisley Hunter in 44 Mag was the only stainless Ruger I could find and the day after I bought it she was shipped off to John.The gun is pictured on top of the invoice that lists the work that was done which is as follows:
1) Re-chamber 44 mag cylinder to 45 Colt
Polish off lettering
2) Re-mark receiver to 45 Colt
3) Replace barrel with banded ramp 45 caliber Douglas
4) Re-shape top of frame from Hunter configuration to Bisley configuration
5) Install Weigand front base and re-shape
6) SDM beaded front sight
7) Basic action job
8) Oversize locking base pin
9) Free spin cylinder conversion
10) Bowen Rough Country rear sight
11) Add Gallagher logo

Thank you and God bless John Gallagher....

_________________________
Life member-NRA-SCI
Member-HHI #2900-HHASA #067
Colt-Ruger-Freedom Arms-and S&W Collector Assoc.s
"I have more guns then I need but not as many as I want" "Handgun hunters HAVE to be good"